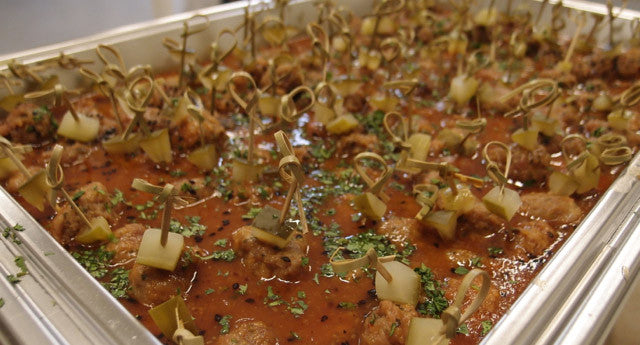 Pork Meatballs with Orange-Absinthe Deliciousness, Real Dill Bloody Mary Mix and Elevation Ketchup Glaze
Yield: 6 Portions:
Pork Meatballs
1 Lb. Ground pork, 80-20
¼ C. Onion, grated
1 Ea. Garlic, grated
1 tsp. Ginger, grated
1 tsp. Kosher salt
¼ C. Cilantro-Parsley blend, finely chopped
2 Tbsp. Elevation Ketchup
1 Tbsp. Worcestershire sauce
Glaze:
1 C. Orange Absinthe Deliciousness
1 Tbsp. Red wine vinegar
Salt and pepper to taste
Garnish:
Real Dill Jalapeño Honey Pickles wedges
Cilantro leaves
Technique:
For the glaze:
In a small sauce pan combine all ingredients and reduce over medium heat until it thickens, enough to coat a spoon, reserve.
For the meatballs.
Preheat oven to 425˚F
Place ground pork in a bowl and add all the remaining ingredients
Knead well until mixture is well combined and emulsified
Shape mixture into 1 oz. balls and place in a grease baking dish
Bake until golden brown
Reduce oven temperature to 350˚F
Pour glaze over meatball and continue to bake until the internal temperature reaches 150˚F
To serve:
Arrange meatballs on a platter and pierce with a toothpick garnished with a cilantro leaf and a pickle wedge.